I'd like to introduce you to The Campbell Family. Maybe you know the name Glen Campbell? If not, I guarantee you've heard a song he wrote.... (side comment: This film may be up for an academy award!)
The Rhinestone Cowboy...
Glen Campbell's musical and entertainment career, covering nearly five decades, is unmatched for its prolific breadth, popular appeal – and flat-out musical accomplishment and achievement. His guitar playing is legendary and can be heard on classic tracks from Beach Boys' Pet Sounds, to Frank Sinatra's, Strangers in the Night.
As a solo artist, Glen has recorded some of the most beloved songs of his generation including Gentle On My Mind, Galveston and Rhinestone Cowboy.
He has been awarded five Grammy Awards and three Grammy Hall of Fame honors, seven Academy of Country Music awards, a Pioneer Award recognition, three American Music Awards, two Country Music Association Awards and three Gospel Music Association Dove Awards.
He was inducted into the Country Music Hall of Fame in 2005. Glen Campbell has crossed the boundary between pop and country and transcended into a true musical icon.
In 2011, Glen was diagnosed with Alzheimer's disease and with the help of his wife and family decided to face the illness head on. He announced publicly about his battle with Alzheimer's and then released his album Ghost on the Canvas and began his "Goodbye Tour."
On Feb 12, 2012 Glen performed on the Grammy Awards, to an audience of 39 million people, and was given the distinguished Lifetime Achievement Award.
As music legend Glen Campbell enters the final stages of Alzheimer's disease, his family is giving the world a rare glimpse inside his battle with the disease.
From the producer of 'Walk the Line'..
I'LL BE ME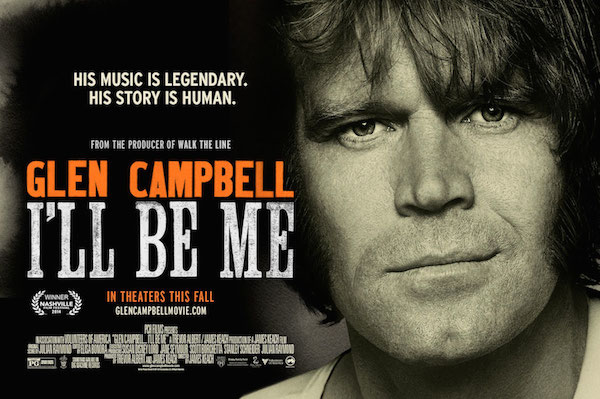 In 2011, when Glen Campbell was diagnosed with Alzheimer's disease, he joined forces with his family to fight the biggest battle of his life. Glen and his wife, Kim, made history by going public with the diagnosis – the first time a major American celebrity would share this experience with the world. The Campbell family then embarked on a short "Goodbye Tour," but the three-week engagement turned into an emotional and triumphant 151-show nationwide tour de force.
This epic human drama about the undying bond between Glen and Kim, and their unwavering caring for each other, chronicles a story of love, resilience and the power of song.
GLEN CAMPBELL…I'LL BE ME is the true tale of how America's greatest country star would not give up his music or his family, against all odds.
The film features those who know and love Glen, including Bruce Springsteen, Bill Clinton, The Edge, Paul McCartney, Jay Leno, Vince Gill, Jimmy Webb, Blake Shelton, Sheryl Crow, Keith Urban, Brad Paisley, Steve Martin, Chad Smith and Taylor Swift among many others. Rare vintage footage and extraordinary new performances of Glen's most beloved hits immerse this moving cinematic account in the overwhelming talent of this humble family man. With joy and a tireless sense of humor, Glen and his family live each moment in the present while preparing for the future, all while playing their music to sold out venues on a star spangled voyage spanning the country from Carnegie Hall to the Hollywood Bowl.
Website:
http://glencampbellmovie.com/faith/
Faith trailer link:
https://www.youtube.com/watch?v=nafCCofiwtU
Film releases OCT 24th (in phases):
http://glencampbellmovie.com/events/category/theatrical-release/